EDIUS非线性编辑软件专为广播和后期制作环境而设计,特别针对新闻记者、无带化视频制播和存储。EDIUS拥有完善的基于文件工作流程,提供了实时、 多轨道、多格式混编、合成、色键、字幕和时间线输出功能。除了标准的EDIUS系列格式,还支持 Infinity™ JPEG 2000、DVCPRO、P2、VariCam、Ikegami GigaFlash、MXF 、XDCAM和XDCAM EX视频素材。同时支持所有DV、HDV摄像机和录像机。
EDIUS 6 - ED IT ANYTH ING
EDIUS is used by professionals and broadcasters alike because it's fast, easy to use and rock solid. It's the perfect choice for ulti-format editing.
EDIUS – More Formats, More Workflows
EDIUS® nonlinear editing software is designed for any broadcast and postproduction environment, especially those using newer, tapeless forms of video recording and storage.
Ultimate File-based Workflow
Perfect for file-based workflows, EDIUS offers real-time, multi-track, mixed-format editing, compositing, chromakeying, titling, and timeline output capabilities. In addition to the standard formats supported by the EDIUS family of NLEs, EDIUS supports P2 DVCPRO, AVC-Intra, XDCAM, Ikegami GF, and Canon's XF format and EOS movie format. It also supports capturing from tape devices such as DV and HDV.
Exceptional Mixed Format Editing
Featuring unrivaled real-time video transcoding technology, EDIUS converts between HD and SD resolutions, aspect ratios, and frame rates—all in real time. You can edit in HD and place 4:3 SD video, or mix NTSC and PAL sources, or combine hem all into projects in other resolutions and frame rates without wasting a single moment on conversion or rendering.New HQX Codec for 10-bit Video Workflow
EDIUS features the revolutionary HQX codec for 10-bit video support. Designed with scalable technology, this innovative codec offers the highest image quality and performance available in any HD editing platform with support for alpha channel. The HQX codec not only provides superior luma and chroma sampling of HD video, but features an adjustable bit rate for increased video quality when capturing and encoding on high-performance systems. By using HQX, you can also export video from other graphic software with alpha channel in 10-bit.
New Features in EDIUS 6
EDIUS 6 offers more than 100 new features, such as 4K, 2K, and free size project support, advanced timeline workflow mprovements, 16 ISO multicam support, new source browser, free shape mask filter, track matte keyer, and AVCHD xporter to name just a few. The editing engine has been tuned for better real-time performance, and the enhanced Proxy Mode opens up exciting possibilities for entirely new editing workflows.
KEY FEATURES
Work natively with many different video formats, such as Sony's XDCAM, Panasonic's P2, Ikegami's GF, and now Canon's XF format and EOS movie format.
Windows 7, XP, and Vista support
Fast, flexible user interface, including unlimited video, audio, title, and graphics tracks
Real-time editing and conversion of different resolutions, as high as 4K/2K resolution to as low as 24x24
Real-time editing and conversion of different frame rates, such as 60p/50p, 60i/50i, and 24p
Proxy mode workflow by switching timeline between proxy/hi-res mode
Nested timeline sequences
GPU-accelerated 3D transitions
Real-time effects, keyers, transitions, and titles
Multicamera editing of up to 16 different sources simultaneously
Direct to Blu-ray Disc and DVD timeline export
Export in AVCHD format to a media card
High-value software bundle includes filters, effects, image stabilization, and VST audio plug-ins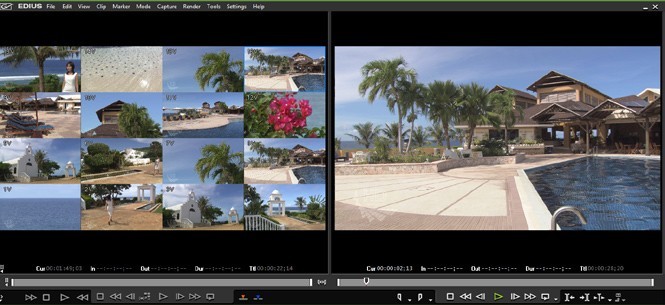 下载地址:
Edius 6.01 试用版(trial)(非正式版)
Edius 6.01 完整版(据说是国外的完整版)
电驴下载地址 (电驴连接,与Edius 6.01 完整版是一样的,包含破解)

推荐

序列号:555555 - HYPJP015G6G0JFC3